The fabulous P-90 Hx Collection ..... Zero Compromise, Zero-Hum

| | |
| --- | --- |
| | Links to various forums that include posts about the P-90 Hx. |
| Suitable for any Dog-Ear cover (Metal or Plastic) | and Soapbar covers |

News flash: No more routing cavity floors, the new shorter Gen-3 versions have arrived. Same sound, same performance.

In 2018 we received an order from Gibson for a large quantity of the Sweet Neck P-90 Hx which they
fitted to Epiphone's new James Bay Signature CENTURY Arch Top at the request of James. Read about it

Shortcut links to IMPORTANT stuff on this page ......
Epiphone f-hole talk
f-hole wiring made easy
Dog-Ear cover talk
Soapbar cover talk
Pole spreads available
Mixing and Matching
Install Requirements
Dimensions
The Kinman P-90 Hx is so versatile your guitar can sound like it has Humbuckers (Nasty 90 Heavy) or through a range of different sounds to a Jazzmaster (580 Alnico Staple) and 5 terrific authentic P-90 sounds in-between these two extremes. This is one "whole lotta pickup".
For replacing humbuckers also look at our P90-Bucker in the Humbucker section.


The power-plant under the hood of the most ALIVE and most DYNAMIC P-90.
Stacks and Sidewinders have given noiseless P-90's a well deserved bad reputation. But that has all changed now because this pickup has Kinman's remarkable Core Strip and Deep Core hum sensor technologies and it moves a lot of air and has changed a lot of minds about noiseless pickups, it's that good.
Dynamic Expression is the 3rd Dimension
Suitable for all Dog-Ear and Soap-bar covers and now available with Jazzmaster covers
New 47.5mm narrow for Epiphone neck

Normal 50mm for Gibson & Epiphone

F spaced 53mm for Fender bridge

53 & 50mm for Jazzmaster

Modern Player Telecaster
YouTube Demos

Nasty 90b & Nasty 90n

Clean Bridge & Sweet Neck

Clean Bridge & Sweet Neck

Clean Bridge & Sweet Neck

Clean Bridge & Sweet Neck
Kinman makes changing pickups in Epiphones and other f-hole guitars the easiest it's ever been, click to discover Epiphone f-hole talk
The P-90 Hx delivers the magnificent girth, luscious lows, piano mid tones, extreme dynamics and touch sensitivity that out characterizes even a great non-noiseless P-90 pickup. It has 206 individual parts and some very sophisticated unconventional thinking to accomplish this extremely difficult task. Now YOU can enjoy magnificent P-90+ sound without that annoying mains hum at a price representing extreme value for money ..... after all it's 206 components cost more to make and assemble than 10 regular noisy P-90's.
Upgrades: Grounded pole screws are now standard on all models as from July-2017

Size does matter and the P-90 Hx being the biggest is the most alive, dynamic, the most stimulating and the most exciting of all pickups ... the P-90 Hx is my best product. Every time I strap on my Gold Top these pickups give me an uncontrollable urge to grin.
Chris Kinman.

P-90 Hx models

(details in the Tabs at the left side)
In order of least loud to loudest (more or less)
Gold Foil 90 - not so powerful, bright and clear with a bouncy low note sound. Great for slide playing.
Gold Foil 90 Heavy - similar in loudness to the Clean Sweet Bridge but even more woody, similar to the Supro / Valco / National pickup. Great bridge pickup for slide.
580 Alnico Staple – twangy, bright, exceptional piano mid-tones, huge warm bottom end, generally very Fender-ish like the Staple pickup in the 1956 Gibson Black Beauty.
Sweet Neck – formerly known as the Standard Neck. Powerful bright & clear, good definition, less inclined to mush and blurr on the wound strings.
Bright Neck – brightest & clearest, excellent definition, least inclined to mush and blurr on the wound strings. This brighter version is great for country and any application where a nice edgy bright harmonic bloom is required.
Clean Bridge – somewhat Fenderish with twang & is not inclined to break-up easily under heavy pick attack at room volume. Great for chicken pickin Country and clean sounds but easily kicks into more typical P-90 growl and grind under a little bit of gain.
Nasty 90 –
In Neck position: sounds like a conventional Gibson P-90 but better. Not recommended for neck unless at room volume, as in Jazz.
In Bridge position: typical thick focused P-90 growl at any volume.
Nasty 90 Heavy –
Bridge position: thick, dark and syrupy. Broader growl like a humbucker but better and more silent. Not recommended for neck unless at room volume, as in Jazz.
| | | |
| --- | --- | --- |
| Some suggested combinations: | Bridge | Neck |
| Improved Gibson P-90 sounds: | Nasty 90 | Clean Bridge |
| Slide (Bottleneck) | Gold Foil 90 Heavy | Gold Foil 90 |
| Country Blues (slide) | Clean Bridge | Gold Foil 90 |
| Country (clean & bright) | Clean Bridge | 580 Alnico Staple |
| Country (loud & crunchy) | Clean Bridge | Sweet Neck |
| Jazz (dark & syrupy) | Nasty 90 Heavy | Nasty 90 |
| Jazz (clean) or Surf (clean & bright) | Clean Bridge | 580 Alnico Staple |
| Heavy rock & Metal (humbucker-ish with high output) | Nasty 90 Heavy | Nasty 90 |
The P-90 Hx has incredible versatility. That means you are not stuck with one sound, you can swap with any of the 7 different P-90 Hx models and transform your guitar into a completely different beast. With this kind of versatility your guitar can sound like it has a Humbucker (Nasty 90 Heavy) through a range of sounds to a Jazzmaster (580 Alnico Staple) and 5 terrific sounds in-between those two extremes, all have Zero-Hum.
The P-90 Hx is made possible by new 'Patented' technology and has a remarkable new 600 ohm noise sensor…. it's another first that re-confirms Kinman as the King of noiseless (hum-cancelling technology) and the Prince of Expression.
Ted McCarty's 1955 brief to Seth Lover, "silence the P-90", has finally been delivered after 60 years, but not by Seth. In re-inventing the P-90 Kinman simultaneously re-invented the humbucker because the P-90 Hx Nasty 90 Heavy sounds better than a Gibson Burstbucker. Click this to hear a comparison.

US Patent numbers 6,103,966 & 7,022,909 & 8,791,351
Number of parts in this pickup: 206 (Yes, that's 206 separate individual parts ... makes the P-90 Hx the most incredible value for money) Scroll to see them ...
Number of parts in normal pickup: 13
Number of parts in other brand noiseless: 23
Kinman reserved the right to change specifications from time to time as required for improvement or sourcing of component parts.
---
Technical & Application info:
---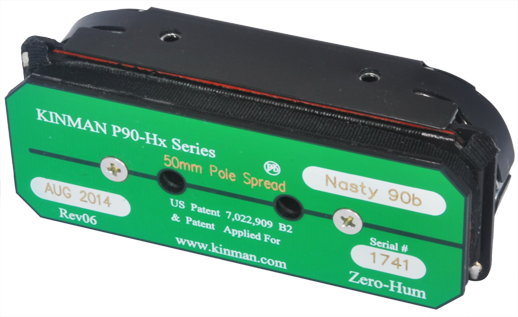 ---
The P-90 Hx has 206 parts (count them). Most are not found in any other brand.
This is the result of 9 years of problem solving and thinking outside the box and highly innovative design.
This is part of what makes Kinman The KING of noiseless and the Prince of Expression.

Click to enlarge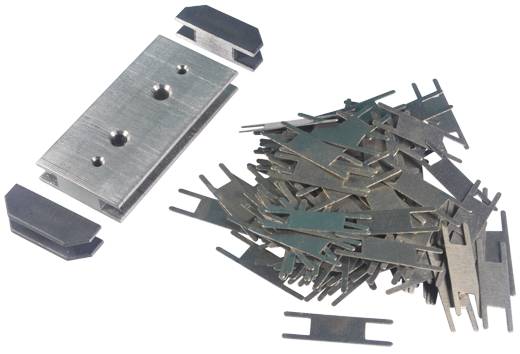 The extraordinary 600 Ohm Hum Sensor's laminated steel H-Core
with it's two advanced magnetics powdered metallurgy End-Caps.
But that's not where it ends ... there are 176 parts on the right
and you've got 7 minutes to assemble it, drill the 4 holes and countersink them ready for winding (on the left)
or the pickup's price will increase and become un-affordable.
How are you going to do it?
We make these every day with closely guarded secret methods and materials and
purpose built machinery; one example is our automatic variable pitch multi-spindle drilling machine.
No other pickup maker has got as much manufacturing expertise as Kinman has.
---
Dramatically IMPROVE your Epiphone - easily, without fuss:
Asian Epiphone's are reasonably well made guitars but the pickups prevent the guitar achieving it's full sonic potential. Kinman puts you in charge of your Epiphone pickup choice and makes it easier than anyone else to change pickups and breathe new life in to it.
First a testimonial so you know what to expect: I ordered a P-90 Hx set for my Epiphone Casino (made in China circa 2011), Standard Neck and a Nasty 90n for the bridge. I discovered Kinman on the web when searching for solutions to the Casino's annoying hum.

The hum cancelling is magic. I didn't expect it to be so good.

But the bigger surprise was the amazing sound of the P-90 Hx. I never realized how flat and dull-sounding the stock pickups were until I installed the Kinmans. It was as though I had been listening to the guitar from another room. The Kinmans are so present and alive. Single notes chime and chords sparkle. The growl when you overdrive them is terrific.

A friend with whom I play regularly has a 50th Anniversary Epiphone Casino '61 Re-issue with (non-noiseless) Gibson USA P-90s. I can say that my Kinmans have a better, more vibrant P-90 sound than his Gibsons. The Kinmans literally blow the Gibsons away. My good Casino has been transformed into a GREAT one.

Markus Buchart (Winnipeg, Canada)
Kinman's will bring your Epiphone to life and are easier to install than any other brand. Kinman make it soooo very easy to change pickups in your Epiphone which are normally the most problematic guitars to do so. We achieved this by eliminating the troublesome Epiphone integrated Dog-Ear baseplate which is soldered to the metal cover and replacing it with a neat invention we call the Universal Dog-Ear Mounting Bracket ...... and a better sounding cover that you order separately. The bracket allows you the flexibility to swap any Kinman P-90 Hx in and out of your Epiphone without fuss and bother of modification.
Wiring made easy for Casinos and other f-hole guitars: scroll down to f-hole install made easy
It is preferable NOT to use the original Epiphone Dog-Ear covers because they are heavily soldered to the pickups and somewhat difficult to remove. Also they are made of Brass and that is not the best material because it tends to muffle the sound. You can try to use the original covers by de-soldering them from the pickups. Players have reported an improvement with better pickups installed. But we think you will get a bigger improvement with genuine nickel-silver or plastic covers.

Learn where to buy the best Dog-Ear covers and learn how brass covers degrade the sound of your Epiphone Click Dog-Ear cover talk
Most Kinman P-90 Hx models are available in 47.5mm and 50mm pole spread to suit both original USA, Chinese & Korean Epiphones. The exceptions are Gold Foils and 580 Alnico Staple which are only available in 50mm.
f-hole wiring made easy:
Eliminate removing the pots and switch from Gibson ES335, Epiphone Casino etc with this cunning method. Simply cut the pickup hook-up cable and solder our female Adapter Kit to the part that connects to the controls. The pickup is supplied with our matching Plug which simply plugs into the female Adapter Kit.

Cut the cable of the original pickup and Male Plug attached to cable of the new Kinman
solder this Female Adapter Kit to it.
Dog-Ear cover talk:
We do not sell Dog-Ear covers however here is a lot of info about the best ones to buy and where to buy them.
The whole metal cover thing is a confusing subject because outwardly good ones look the same as bad ones. Chinese covers are Brass and that is the worst possible material because it destroys sound character and makes the pickup sound dark and muffled with heavily degraded definition and aliveness. Sounds like talking with your hand over your mouth (flat, lifeless and devoid of expression).
The best metal covers are made of Nickel-Silver, same material use on Gibson humbucker and Gibson Dog-Ear covers. While the impact on sonic character is slightly noticeable it's not nearly as severe as Brass.
Chrome plated Nickel-Silver covers are also responsible for microphonic screech (in addition to coils which have not been wax potted). Plastic covers don't have this problem and Kinman pickups are thoroughly wax potted to prevent microphonic screech.
Suitable Nickel-Silver Dog-Ear covers are available from the suppliers below. These suit pole spreads of 50mm and approx 47.5mm
American customer

s:
British, European and USA customers: [LINK]
Allparts also have plastic covers (which have no impact on the sound whatsoever) that suit pole spreads of 50mm and 47.5mm
For the above two covers you should specify the pole spread of the Kinman neck pickup at 47.5mm (and NOT 50mm)
USA made original Epiphones of the 60's like the Beatles used have Nickel-Silver Dog-Ear covers and both the neck and bridge have pole spread of 50mm (please check your pickups). The covers impact on the treble same as humbucker covers do, however the P-90s' still sound pretty darn good. The Beatles used USA Epiphone Casinos but the Chinese copies do not sound the same because the pickups and covers are so different from the USA ones. They might look the same but inside there is little resemblance to an original P-90.
Chinese & Korean Epiphones usually have narrow 47.5mm neck and 50mm bridge pole spreads and the covers are invariably Chrome plated Brass. If desired replacement pickups and covers with 50mm pole spread can be used for both pickups . The original pickups have a reputation for sounding dark and lacking dynamic expression (flat and lifeless) not only because of the cheap and nasty covers but also the coils are very different to genuine P-90 and don't sound good anyway.
The 2 different pole spreads of Epiphone Dog-Ear covers and matching Kinman P-90 Hx are displayed in the image below.
Soap-bar cover talk:
Plastic covers have no impact on the sound what-so-ever, even our Chrome plated one. All Kinman Soap-bar covers (Cream, White, Black & Chrome) are available to suit pickups with 50mm pole spread. Cream and Black Soap-bar covers are also available to suit our new 53mm pole spread versions.
We sell a variety of decorative pieces that can be seen under this cover. Six examples can be seen to the right.
Dimensions:
Click for Install Requirements displaying complete dimensions and cavity requirements and lots of other useful information about installation.
Click this for the Install requirements for the original version, now discountnued.
Pole spreads:
50mm for Gibsons or bridges having saddle spread of 50mm ~ 54mm.

Cream, Black, White,

Chrome and Transparent with colored decorative top plates.

53mm pole spread for bridge position of Stratocasters or with any bridge having saddle spread of 54+mm.

Cream and Black Soapbar covers only

47.5mm for neck position of Epiphones (NOTE: not all Epiphones have 47.5mm neck pole spread, please measure it).

suitable for Dog-Ear covers. NOTE: we do not supply Dog-Ear covers, see Dog-Ear cover talk
Background story of the 9 year development:
What's wrong with P-90's? Well, if a filthy dirty distorted sound at practically any volume that lacks punch is what you want then they are ok except for the terrible amount of hum they produce (at least double that of a Strat). For me I wanted more clean headroom so I can hear the sound of the strings, more punch and more dynamic range. I consider the P-90 has the potential to be the ultimate pickup, but a major redesign would be required. A lot of P-90's also have offensive midrange spikes and sound ragged (abrasive) on the plain strings.
During the course of the development period I came to realize that some manufacturers of P-90 are under-winding for a lower output in an effort to reduce 60Hz hum. Well they certainly did that but unfortunately they also lost a lot of revered sonic characteristics. It was when I compared these inferior modern cousins to my genuine old original Gibson P-90 (circa 1962) I realize why it is I see so many comments on forums saying the hum from a P-90 is about the same as a Strat pickup. That is a deluded claim because under identical laboratory test conditions a genuine P-90 has 650 millivolts of hum compared to 250 millivolts for a Strat pickup. P-90's are incredibly noisy.
Improvements: I greatly improved the definition and clarity in order to reduce the neck pickup's tendency of turning to 'mush' and the bridge pickup's distortion at any volume, under heavy pick attack. This was accomplished by dramatically increasing the dynamic range and then the sonic performance actually got better, a lot better. My noiseless P-90 Hx are great sounding pickups, not offensive in any way, but not polite either. They have a more brutal output and more muscle than regular P-90's and in many ways are more likeable (and more silent) than a humbucker. The P-90 Hx is a incredible explosive and a highly versatile tone machine.
How good is the Kinman? the true test of quality of a P-90 is whether it sounds GREAT in the neck position or not. The Kinman speaks with a BIG voice, notes are so alive they just leap out and played clean it sounds gorgeous and luscious in the neck position. With it's baseball bat attack and extreme dynamic range the sound won't turn to mush too easily when played hard. The sound has piano-like mids, huge deep and warm lows, sweet transparent highs that sizzle rather than clang and dynamic range that takes you from a tonefull gentle whisper to a crunched power chord in a nano second. One more important test is 'does it sound great at low volume?' If a P-90 passes both these tests in the neck position it will sound superb in the bridge position too. Then and only then can it qualify as an authentic sounding P-90 and you'll know because you wont be able to put the guitar down.
The big mouthed Kinman noiseless P-90 Hx with it's remarkable 600 Ohm noise sensor is in a different world to noisy P-90's. It really has got something to crow about.
A new beginning and a twist in history:

The P-90 was cursed with hum from the beginning, that's the reason Gibson developed their famous humbucker back in 1955 …. to eliminate hum. But Gibson's humbucker turned out to be a very different sounding pickup and the P-90 hum problem was not actually solved. The twist of history is now the P-90 Hx is even quieter than a humbucker and many say it sounds better too.
With it's revolutionary 600 Ohm noise sensor this pickup moves a lot of air, and changes a lot of minds about hum-cancelling pickups. It is nothing less than an astounding new beginning for the noiseless era and will start a new chapter of history concerning P-90 sound.
Behind the scenes story:
G'day, Chris Kinman here. Early 2000's I set my goal to duplicate the sonic characteristics of a genuine original P-90 but eliminate the 50/60Hz hum, a noiseless or hum canceling P-90 no less. At the time I did not realize the massive effort and complex manufacturing it was going to take to achieve that goal. Now I know the reason noiseless authentic P-90 sound has not been achieved before by other pickup manufacturers. There are a few look-a-likes but not one has anything like real P-90 sound.
When I tried to design a hum cancelling P-90 by applying my existing patented technology I found that which works well for Strats* and Teles* was not suitable to cancel the immense amount of hum a P-90 produces without destroying it's characteristic sound. I came to realize that P-90 sound, although in some ways brutal and powerful, is actually quite fragile and a more sophisticated technique would be required if the original sound and dynamic performance are to be retained.
Discovering the additional solutions took almost 3 more years with countless hours spent and many experimental pickups made and discarded creating a whole bin full of scrap copper wire and parts. There were many times I thought it was an impossible mission and almost came to the point of abandoning the whole idea as a waste of expensive R&D materials and my valuable time.
However, I had made a promise in 2001 and almost in desperation, I continued, like a lonely prospector looking for gold in the wilderness. I'm glad I didn't abandon my quest because eventually, little by little the P-90 gave up it's secrets and I eventually found the Mother Lode.
The P-90 Hx produces magnificent dynamic feel, luscious lows, piano mid tones and extreme dynamics that actually surpass a great P-90 pickup by a long-shot. It has 206 individual parts. some very unconventional design thinking and new technology to accomplish this extremely difficult task. Now YOU can enjoy magnificent dynamic P-90 sound without that annoying mains hum at a price representing extreme value for money (after all those 206 components cost more to make and assemble than 10 regular noisy P-90's).

Limited Edition - 'Inaugural' Sets (all sold -no longer available): It took a few days to dawn on me, and then I began to wonder…was it pre-ordained destiny or wondrous coincidence that the first batch completed manufacture on the 9th day of the 9th month of 2009? After all the set backs and obstacles during those 9 long years I believe it was destiny to arrive on a day with so many 9's in it's date, now known around here as Destiny day, 9-Sept-2009. I believe this pickup is such a major milestone in the evolution of pickup design that to celebrate the arrival of the P-90 Hx after almost 9 years of development I am offering a Limited Edition Inaugural Set collectors pack, only 90 sets will be made and each is assigned a unique serial number between 1 and 90. Each pickup is engraved on the back with it's unique serial number, model designation and date of manufacture as 09-09-2009 and autographed by me, Chris Kinman.
The new plastic box made specially for the P-90 Hx also has a unique Inaugural Series label which is hand inscribed with the unique serial number of the pickups. These sets will become collectors items and will rise in value in the future because only 90 sets will be made.
These Inaugural Series sets are set apart with special neck and bridge coils that are not otherwise currently available. The different wind especially for the neck pickup has even more definition, tone and harmonic bloom but still has the big sound that P-90's are noted for. There is almost no tendency to mush out, it just responds with even louder clearly delivered notes. The regular neck pickup is not rendered inferior by this one as it is itself dramatically better than my late 50's Gibson original. The Fat bridge pickup delivers a more open sound (less nasal) with a broader growl ... going towards a humbucker.
These Limited Edition 'Inaugural Series' sets are all sold - no longer available